BRAND INTRODUCTION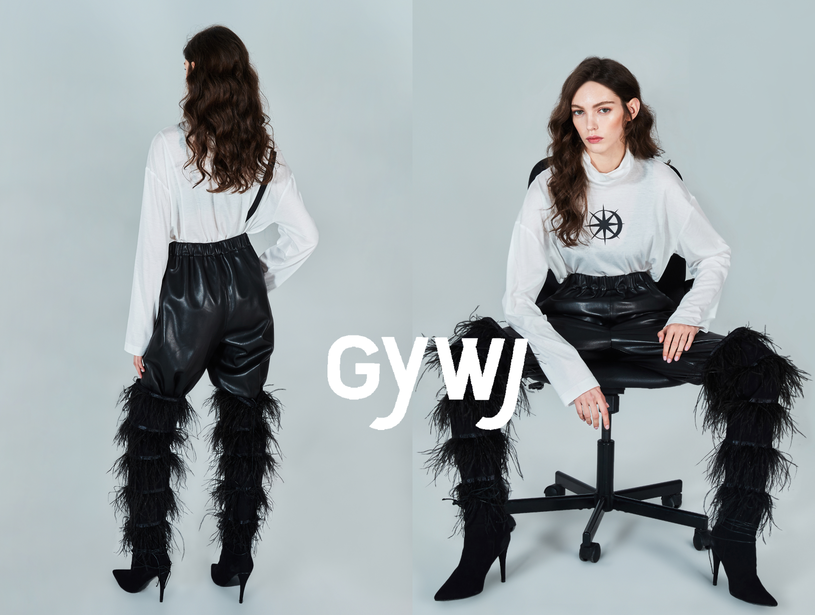 GYWJ
GyWj以轻松与摩登的风格来表现自我着装的敏感度,同时品牌传递在不同年龄层与不同程度上女性保留的不羁少女感和易穿性。
G代表GLOWING:寻找自我身份的认同,中性挺括的性格和现代摩登的态度。营造一种模糊结构与细节、柔软与硬朗的状态。与都市中确立自我角色的女性们的爱好一致:当下的美学与经典的结合。
Y代表YOURSELF:不拘泥于常规,解构世界与自身的关系。跳脱常规的廓形和平面的框架从当代文化中抽离显现出来。
W代表WOOL:回归材料最基础的属性温暖,一切有肌理的、有层次的、有触感的、有趣的介质都会还原到温暖的本身,认真对待"第一层皮肤"。
J代表JUICE:一种在现场的即时状态,当代青年文化与女性审美意识的观察,去探索一切感觉兴趣的事物。
GyWj expresses the sensitivity of self-dressing in a relaxed and modern style, while the brand conveys a sense of youth and ease of wear that is retained by women of different ages and degrees.
G stands for GLOWING: looking for identity of self-identity, neutral character and modern attitude. Create a state of ambiguity and detail, softness and toughness. Consistent with the hobbies of women who have established their own roles in the city: the combination of aesthetics and classics.
Y stands for YOURSELF: Deconstructing the relationship between the world and itself without being constrained by convention. The conventional profile and the flat frame are drawn away from the contemporary culture.
W stands for WOOL: the most basic attribute of the return material is warm, and all the physical, layered, tactile and interesting media will be restored to the warmth itself, and the "first skin" will be taken seriously.
J stands for JUICE: an instant state on the scene, the observation of contemporary youth culture and women's aesthetic consciousness, to explore all things that are of interest.