BRAND INTRODUCTION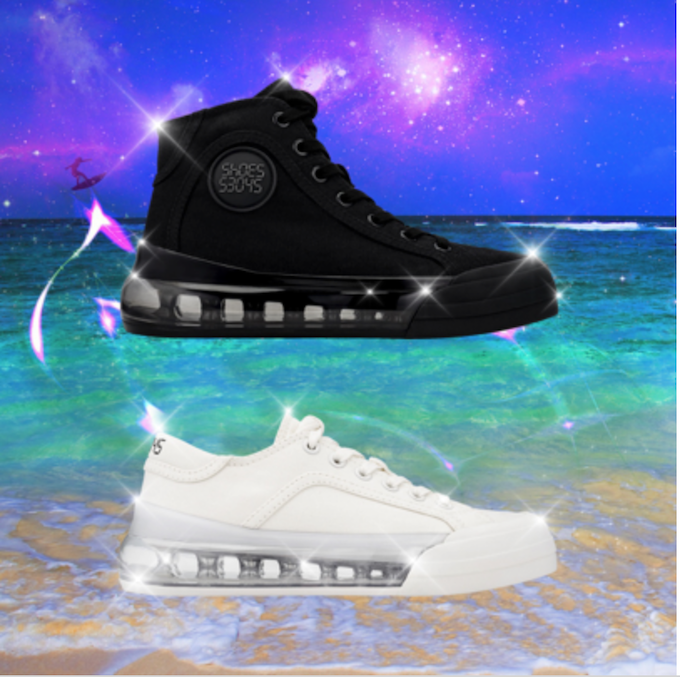 SHOES 53045是来自美国的品牌,数字53045将鞋子的英文shoes颠倒过来——这正是该品牌在鞋类领域所做的。产品在世界上最先进的运动鞋工厂手工制作,它可以以一半的价格提供与奢侈设计师运动鞋相同的质量。每双鞋都是纯素皮制作的,穿着舒适,还赠送包括两套定制的鞋垫。首席创意官David Tourniaire是马丁·马吉拉(Martin Margiela)的长期创意合伙人,也是90年代运动鞋品牌Nobox开创性设计背后的设计师,与Demma Gvasalia合作推出了如今的标志性巴黎世家(Balenciaga) Triple S运动鞋——这款鞋引发了设计师运动鞋和运动休闲鞋最近的复兴。SHOES 53045是一个直接面向消费者的品牌,这使得它可以以一半的价格提供与奢侈设计师运动鞋相同的质量。该品牌还与世界各地一些精选的酷概念店合作。
Sneaker-shoe hybrids with platform bubble air soles and a dose of fun.
What would happen if la crème de la crème of Paris shoe design and the disruption culture of Silicon Valley had a love child? SHOES 53045 — sneaker-shoe hybrids with bubble air soles and a dose of fun. (The numbers 53045 spell SHOES upside down — and that's exactly what the brand is doing for the footwear scene.).
SHOES 53045 comes from the future (with a detour through the '90s). They're inspired by music and culture, vintage footwear, and all sorts of oddball objects. They're so comfy, they feel like walking on floaty boats or dancing on the moon!
SHOES 53045 is designed in Paris by a footwear legend, based in LA, and handcrafted in China, in the most advanced athletic shoe factories in the world — which they are proud of!
SHOES 53045 is a direct-to-consumer brand, which allows it to offer the same quality as luxury designer sneakers at half the price. The brand also partners with a select group of cool concept stores worldwide.
Each pair is vegan, unisex and precision-engineered for the wearer's comfort and pleasure, including two sets of insoles to customize the fit.
Chief Creative Officer David Tourniaire is a longtime creative associate of Martin Margiela, the groundbreaking designs of '90s sneaker brand Nobox, and the now-iconic Balenciaga Triple S sneaker in collaboration with Demma Gvasalia—the shoe that sparked the recent renaissance in designer athletic and athleisure footwear.
David's sneaker's co-designs for Balenciaga represent 64% of Luxury sneaker's market share worldwide in 2017.
CEO Aurelia Ammour is a French-born, L.A.-based luxury fashion and retail executive and strategy consultant with extensive experience working with major Paris conglomerates (LVMH, Kering, L'Oréal, Puig, and more), as well as direct-to-consumer brands and Silicon Valley tech players.
In 2018, Aurélia was named as one of 30 incredible women that are taking the Ecommerce world by storm by Ecommerce Magazine.